First Tournament was held at Yuba Reservoir in Utah....
Justin Fox (StickNRelease), Jordon Stroup (JStroup),my Dad, and I headed over Thursday night. We arrived at 2am and set up camp. Early in the morning I meet with The DNR officer (Bevin Monroe) who was as excited to have us as a little kid getting his first bike. I was a bit worried about how we would be received as this is the first year spearfishing has been allowed at Yuba. We scouted out the day and saw several other guys show up early and get on the water like Mike McGuire, Terry Lentz, and Mike Ban (Skidoo). I was excited to see a bunch of fish especially for JStroup this would be his first tournament ever. JStroup moved from Hawaii last year to Colorado and had only dove freshwater one other time. He wasn't sure if he should enter the novice class or Pro but decided to try for the cash by entering the Pro Class. He did exceptionally well for never really diving in dirtier water and not knowing how to hunt freshwater fish. He ended up taking 5th place in Pro with 60 fish for 161.65 points. Later on after we got done on the lake we meet up with other divers back at our campsite and sat around rigging up new guns, showing off our trophy that we had made for the tournament, swapping bull Sh*t, and just relaxing.
Saturday morning came early for me as I was up at 6am setting up the prize table and getting things ready for registration. We ended up with 20 competitors total. We had 13 Pro divers and 7 Novice divers. We pulled divers from Montana, Arizona, Colorado, Utah, and Wyoming. After getting everyone up to speed on everything we started at 9am sharp with an air horn and we all took off heading for our first spots. Some drove their cars around the lake to dive from shore, JStroup paddled his ass off in a Kayak that Mike McGuire had lent him, and everyone else pushed their boats to their max trying to get to their spots. StickNRelease and I found the fish early in six feet of water and started boating them as best as we could. But when your shooting carp that are mostly the size of coffee saucers its hard to hit them at times. But we were having a blast. As the day moved on we moved around the lake as well as depths to keep finding the fish. About halfway through the day my dad pulls up to JStroup just as he his putting the largest fish of the tournament in his Kayak. A nice 12 pound carp. My dad tells me that he is doing well and diving efficiently. We moved to one of our final spots were we have some decent vis of 5 feet. StickNRelease goes one way and I the other. I see this monster carp swim below me and I shoot and miss. Thinking to myself that JStroup has this monster I needed to get this fish. So I dive down and lay on the bottom and tap on my gun with a rock a couple times and sure enough this big carp I just missed comes to check me out. Bam I boat the fish. After making my long run and picking up a bunch of smaller fish I decided to go brag about my big carp to StickNRelease. I pull up to him and start running my mouth about having the biggest fish on the boat so far. He looks at me with a grin and says " You better check my stringer before you start running your Mouth" I look down and damn if he doesn't have a bigger fish then me. Turns out JStroups 12 is bigger then StickNReleases 11 and My 10 ponders. Three O'clock rolls around and we stop shooting fish and make are way back to the weight in station. Everyone comes in and we see that most everyone has shoot fish. Mostly carp but a couple guys did pick up some perch and a small mouth bass. We all enjoyed Bruce Boyd's spaghetti dinner after we weighted in our fish. After getting our fill of food we started off the awards with settling up a small bet between Stick'em, The Stranger, JStroup,StickNRelease,Shroomy,and Myself. I said that the boys from Colorado would sweep the first three places which they did. So everyone from other states other then Colorado had to shave their head or eat some carp raw. The Boys from Montana took it well almost. Stick'em loved his sashimi but The Stranger decided to re-visit his spaghetti dinner. Shroomy at his 6'7" tall frame didn't mind his head being shaved so out came the clippers. We moved on to giving away a bunch of prizes from our sponsors (Monster Energy,20fathoms,HammerHead spearguns,Otter Box,Pelaj,Poseidonsub Spearguns,Hardcore Spearfishing.Com, Spearfishing World.com,High Plains Scuba,Lucky Joe's Saloon,Stone House Grill,DUI, Dive Rescue Int'l,Orca spearguns,Helter Skeletons,Armor Bags,and Justin Fox)
Danny Raff,Eduard Vozard,and Cory Uhrich took 1st,2nd,and 3rd places in the Novice class and all walked way with nice prizes like a 55cm gun from Hammer Head, a Pelaj Knife, and a Dry Box from Otter Boxes. In the Pro class Mike McGuire won the tournament with 118 fish for 314 points and picked up 280 bucks cash, followed by myself with 92 fish for 235.15 points and 142 bucks in cash, and Justin Fox took third place with 68 fish for 203.30 points and picking up 48 bucks. Everyone seemed to have a great time and the weather was just beautiful as we had very little wind and sun shining down on us. I don't think I could have asked for a better first tournament for our Rocky Mountain Series. I want to leave you with this... Thank you all for making it out and enjoying yourselves. I even think Stick'em enjoyed himself after loosing his fins right at the beginning of the tournament and having to eat raw carp. And thank you to my sponsors for helping me get some of the greatest spearos and people in and around the Rocky Mountains to come together.
Thank you
James Hardesty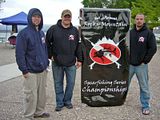 CLICK PHOTO FOR A SLIDE SHOW OF PHOTOS FROM THE TOURNAMENT